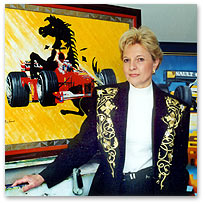 Françoise Lemaître-Leroux was born on November 25th, 1948 in Dieppe. She frequented the Beaux-Arts of Rouen during the 1970s, where she honed her craft under the tutelage of Robert Savary. Yet it was not until her encounter in 1985 with Dali and hyperrealism that her works took on a life and an inspiration of their own. As a tough-minded woman, she found this medium of expression to be singularly ideal in her pursuit of strong themes dominated by movement, and it is for this reason that so many of her works are devoted to sports – a universe typically ruled by men – allowing her to prove her precision and the power of her brush-stroke.
Magazine Formules, #19 (may/june 2001)
Françoise Lemaître-Leroux is a remarkable artist whose works are creative and relevant. Whether depicting athletes in motion, racing-cars, or even portraits, we are left with the impression that here is an artist capable of anything.
Inspired by Salvador Dali, whom she had the opportunity to meet, she creates works which are for the most part figurative in style and reveal a know-how that cannot be the result of her initial training alone, but evidently of extraordinary talent.
Her vision is both realistic and idealistic, inviting us to discover pieces that are surprisingly modern.
In portrayals of formula 1 cars and racing championships, rugby matches, and illustrations of equestrian competitions, we rediscover the futurist style so dear to Filippo Marinetti, particularly in the artist's treatment of movement.
In order to convey immense power in her compositions, she strays as little as possible from primary colours and avoids the trap of haphazardly mixing shades.
She is adept with acrylics but also gold leaf, which is placed with such incredible precision in smooth planes and perfect contours that we can easily imagine the preparatory work.
Various materials are used as supports but canvas and panel are firm favourites even if some works are painted on cardboard.
Her rigorous craftsmanship and precision in drawing reveal works that are expressive and dynamic.
The skillful use of different media beautifully enhances effects of light, to reveal a style of composition that is appealingly hyper-realistic.
HHer natural tendency to take on challenges makes Françoise Lemaître-Leroux an artist who can unhesitatingly face technical difficulties of any nature.
Her desire for perfection is such that evidently nothing is left to chance.
Finally, it isn't the least surprising that this highly accomplished artist is represented at the most eminent exhibitions in Europe, as well as in numerous collections in France and abroad.
J. St. Aubin


Françoise Lemaître-Leroux was chosen among the 7000 artists represented by Cambridge Expertise - www.cambridge-art.com to be one of 40 European artists registered on the Contemporary Chinese Art Market.

Principal Exhibitions :
Exhibition at the Golf of Torremirona (Spain) - May 2012
See the photos
Exhibition at the Champagne LANSON headquarters in Reims - September/October 2011
See the photos
Exhibition at the Polish Olympic Committee headquarters in Warsaw - September/October 2010
See the photos
Exhibition at the National Centre of Rugby in Marcoussis in 2008
See the photos
Exhibition at the National Automobile Museum in Mulhouse, December 2007
Exhibition "L'Art Emmêlé 2". Hôtel de Crillon, Paris. October 2007
See the photos
International Festival "Reportage Sportif Francophone".
Forges-Les-Eaux. December 2006
See the photos
Exhibition at the Grand Hotel Park in Gstaad.See the photos
Painting for the Rugby centenary (1906 - 2006) presented to the French Rugby Federation.See the photos
Salon des Artistes Français (Paris). See the photos
Autumn Salon (Espace d'Auteuil - Paris)
Salon de Rouen
L'Art emmêlé (Hôtel de Ville - Paris). See the photos
L'Art emmêlé (Australian Embassy - Paris)
40th anniversary of the Société Quille (Rouen) (in the presence of Jean-Pierre Beltoise and René Arnoux).See the photos
Salon Euraltus (Nice). See the photos
Salon des Petits Formats (Paris)
Exhibition at the Hôtel du Département de la Seine-Maritime (Rouen)
Exhibition at the Lincoln Center "The Art Portals" (New-York - USA) (Award for Excellence)
Exhibition "El Arte Del Deporte" (Barcelona 92) (Olympic Games) Painter for the Barcelona Olympic Games. See the photos
Exhibition at the House of Latin America in Monaco – Sponsor: Jacques Lafitte, former racecar driver
Formula One Grand Prix of Monaco. See the photos
Exhibitions: Deauville, Evian, Guingamp, Rouen, Paris, Mauritius.
Jubilee in celebration of Jean Alesi's career. See the photos
Collections
Fédération Française de Rugby (Toile du Centenaire) - Paris
Société QUILLE - Rouen
Société des Champagnes LANSON - Reims
Conseil Général de Seine-Maritime - Rouen
Assurance MATMUT - Rouen
Musée Olympique de Varsovie (Pologne)
PZM (Fédération Automobile de Pologne) - Varsovie
Olympic Museum in Lausanne, (Switzerland)
Private collection: His Majesty Juan Carlos the King of Spain
Private collections: France, Germany, Switzerland, U.S.A., Belgium, Spain, Chile (National Marine (Esmeralda)), The Netherlands, Poland, Australia, England, Mauritius, Canada (Quebec), Venezuela, Luxembourg, Monaco, Kazakhstan, Lebanon, China
2014 : F.I.M. EUROPE (Fedération Internationale de Motos) - Suisse
2016 : Rouen - France
2017 : University of Shanghai (Fine Arts School) - China
Principal Awards
Presentation of the Silver Medal for "French Merit and Devotion" by the President of the National Federation of French Culture Mr. Jean-Paul de Bernis to Françoise Lemaître-Leroux in the presence of Mr. Michel Lejeune Deputy and Mayor of Forges-les-Eaux, at the French National Assembly in Paris, on 23-07-2009. See the photos
Grand Gold Medal: National Federation of French Culture – European Art Group
SILVER MEDAL FOR FRENCH MERIT AND DEVOTION
Silver-Gilt Medal : "Arts-Sciences-Letters"

Mr. Jean-Paul Debernis, the Vice-President of the Society "Arts-Sciences-Lettres" and the painter Françoise Lemaître-Leroux, Pavillon Dauphine, Paris, 18th May 2008
Silver-Gilt Medal : National Federation of French Culture – European Art Group – "French Cultural Merit"
Silver Medal : National Federation of French Culture – European Art Group for "her artistic research and the originality of her work in its entirety"

Certificate of Authenticity
Painter Françoise Lemaître-Leroux is registered with Cambridge Expertise, Expert in Contemporary Art

"I declare on the present certificate of authenticity, that the work as refers above has been made by my care, I'm the exclusive author of it and this work constitutes "an original" in the meaning and in accordance with the law."

"Les Portails de l'Art" Cork Gallery (New-York - U.S.A.)
1st Prize at the International Salon of Deauville
• Bronze Medal : Ministry of Youth Affairs and Sports awarded by Roselyne BACHELOT (Minister)
• Bronze Medal : Ministry of Youth Affairs and Sports awarded by Rama YADE (Secretary of State)
Trophy 'Europe Silver' at the 2010 International Competition of Fréjus